This video is part 1 of 2.  Find the second half "The future of streaming content in a cinema." here.
It has been a busy time for me.  I have been working on some new technology so my time to put into cinetechgeek has been limited.
I hope you find this video helpful.  The question of what can I plug into a DCI projector is a common one.  There are limitations.  In this video I cover what you can plug into a DCI projector.  But this is only the start.  Knowing what you can plug in, and actually programming a DCI projector to accept the type of signal are two very different and difficult issues.  This video covers the first issue.  I will make a video later to generally, considering the 3 different makes,  cover how to program the projectors.
This is a long video so I have broken it up into two sections. (Keep under 10 min so friendly with YouTube).  The second video is called "The future of streaming content in a Cinema".  It covers new ways to move content around a cinema and a prototype of that technology.
Please enjoy this video, following is adjoining content mentioned in the video.
—
As shown in the video, view the NEC NC-projector list/table of supported signals that can go into a DCI projector. This list is the same for NEC, Christie and Barco. Download the PDF here.
—
Christie Comments on HDCP in their projectors
Q: "How/what do you look for in the interface to know if the projector has the HDCP (for DVI port) supported interface card installed?"
Answer: Determining HDCP Support for Christie Series-1 Digital Cinema Projectors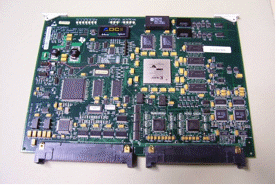 All CP2000-ZX and CP2000-M projectors are and always have been HDCP compliant. Christie was the first DLP cinema OEM to provide for this functionality before TI included it on their interface boards in 2008. When Christie unveiled the HDCP capable ZX far ahead of the competition, it caused other OEMs to pressure TI into releasing an HDCP compliant board for all OEMs. For older projectors (prior to 2008)
HDCP support is determined by the version of Interface Board. Christie Engineers will typically check HDCP compliance based on Interface Board Type using the 'DLP control program'. Only Interface Boards 'Type 4' are HDCP compliant. End-users with legacy projectors (for example, the CP2000-H/i/S/X) may also visually inspect the upper left corner of the interface board (part # for the HDCP model is 002-120383-xx ).
Series 1 SR – Secure ready (Type 2)
Series 1 S – Secure (upgraded 1SR) (Type 3)
Series 1 RH – RoHS Hybrid (Type 3)
Series 1 R- RoHS Compliant (Type 3)
Series 1CP – HDCP enabled (Type 4)
NOTE: (The new Type 6 Encapsulated Security Kit, HDCP, is now available, PN 003-120460-XX, See Image 2)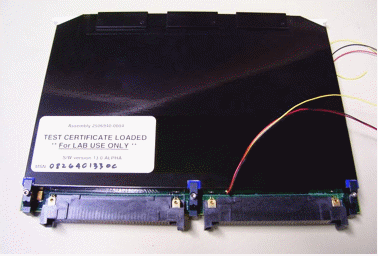 Image 2: Type 6 – Encapsulated Security Kit, HDCP
Metal enclosure with a special tamper responsive surface.
Image 1: DLP Interrogator Program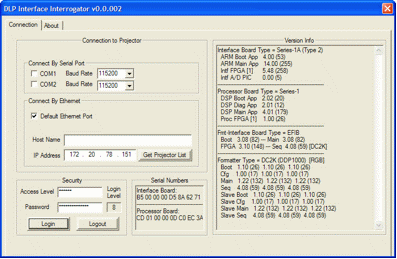 To simplify the question of HDCP support, Christie will soon be posting a simple utility 'DLP Interface Interrogator' which connects via Ethernet (or via a serial cable to the RS232A) to any CP2000 and provides information. Please see the preview file attached DLP Interface Interrogator vid.wmv. Feel free to post this video clip (we hope to make the tool publicly available on-line in the next 4-6 weeks).
James Gardiner: Information regarding the customized Gefen 'A/V Cinema Pro' Video scalers?



Answer:
This is a low cost alternative to the CineIPM2K and does pass HDCP compliant content on to the projector. It allows pass-through of 7.1 analog and AES/EBU digital audio from Digital Cinema servers (in bypass mode) and provides easy 'video + audio' integration for consumer type devices like Blu-Ray players & PC's, with a wide range of sources routed to the Christie projector DVI input (at either 60P, or as a 24P pass-thru). The Gefen units also support some basic audio functions like HDMI dis-embedding and D to A conversion, with most inputs allowing either digital or analog audio to be selected. Floating (transformer-isolated) audio at the DB-25 output is pinned to the 'Dolby standard' for 100% compatibility to existing booth equipment, and the units allow up to 80 milliseconds of Lip Sync delay.
The units may be controlled via RS-232, and are supported by Device Libraries in the new Christie ACT Automation (v2.0 software). See attached Gefen cut-sheets for feature details.
This configuration is available exclusively from Christie:
Part # 111-324201-01 AV Cinema Scaler Pro I (analog 7.1 server audio input)
Part # 111-325202-01 AV Cinema Scaler Pro II (both analog & digital 7.1 server audio inputs)
—-
NEC Comments on HDCP in their projectors
To be supplied.
—
Barco Comments on HDCP in their projectors
To be supplied.